ABOUT THE SHOW
The Loud House follows the daily adventures of Lincoln Loud, an eleven-year-old boy with ten sisters. In each episode, Lincoln must find a new way to solve the problems that face his huge household. The series was created by animation veteran Chris Savino and currently airs on Nickelodeon.

POLL
Which recent premiere did you like most?
THE LOUD HOUSE QUIZ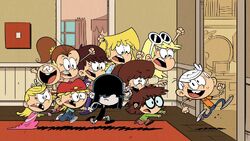 Try out your The Loud House knowledge in this Quiz.
WELCOME TO THE LOUD HOUSE ENCYCLOPEDIA!
FEATURED CHARACTER: STELLA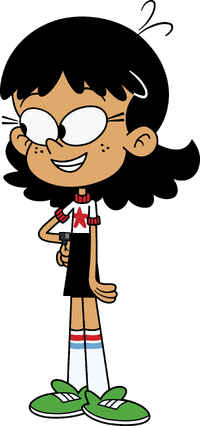 Stella is a student who appears in the episode "Be Stella My Heart". She first appeared in "White Hare" as a new resident in town.
Stella is a slender girl with tan skin, freckles, black hair that curls up at the back end with two strands of hair standing out, two pairs of eyelashes, and noticeably slanted eyes. Her main attire is a white sweater with a red star in the middle, a red collar, and red sleeves, a long black skirt, white knee-high socks with a red and blue stripe at the top, and green sneakers. She also wears a wristwatch on her right hand.
Stella is voiced by Haley Tju, most famous for playing the character Pepper in the Nickelodeon sitcom, Bella and the Bulldogs.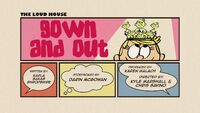 "Gown and Out" is the one-hundred-twenty-third episode of The Loud House. It premiered in the United States on August 1, 2018. It was written by Karla Sakas Shropshire, directed by Kyle Marshall and Chris Savino, and storyboarded by Darin McGowan.
In this episode, Lola is invited to compete in the Little Miss Southeastern Michigan regional pageant. However, when she finds out that her competitors are far more talented than her, Lola soon realizes that a higher level pageant means tougher competition.
Fun fact: This episode confirms that Lola has never lost a beauty pageant before in her entire career. However, as of this episode, Lola loses for the first time.