ABOUT THE SHOW
The Loud House follows the daily adventures of Lincoln Loud, an eleven-year-old boy with ten sisters. In each episode, Lincoln must find a new way to solve the problems that face his huge household. The series was created by animation veteran Chris Savino and currently airs on Nickelodeon.

POLL
Which "snow" episode is your favorite?
THE LOUD HOUSE QUIZ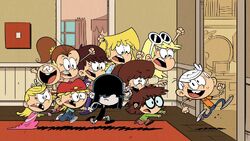 Try out your The Loud House knowledge in this Quiz.
WELCOME TO THE LOUD HOUSE WIKI!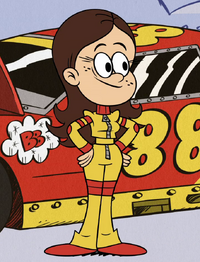 Bobbie Fletcher is a racecar driver who appeared in "Snow Way Out". She is Lana's racecar driving hero.
Bobbie has a slender figure with long flowing brunette hair. She wears a yellow and red race suit.
Bobbie is voiced by Karsyn Elledge, who is the granddaughter of deceased iconic NASCAR driver, Dale Earnhardt.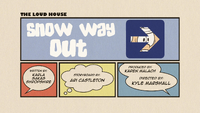 "Snow Way Out" is the one-hundred-first episode of The Loud House. It premiered in the United States on December 1, 2017. It was written by Karla Sakas Shropshire, directed by Kyle Marshall, and storyboarded by Ari Castleton.
In this episode, Lana encourages her siblings to join a contest being held at the Burpin' Burger, since the grand prize is becoming an honorary member of the pit crew of her racecar driving idol, Bobbie Fletcher. However, as the kids compete in the contest, they get snowed in at the restaurant, forcing them to survive the night in frigid conditions.
Fun fact: Grant Palmer, the voice of Lincoln throughout the first season, made a cameo in this episode by voicing the Burpin' Burger employee.