ABOUT THE SHOW
The Loud House follows the daily adventures of Lincoln Loud, an eleven-year-old boy with ten sisters. In each episode, Lincoln must find a new way to solve the problems that face his huge household. The series was created by animation veteran Chris Savino and currently airs on Nickelodeon.

POLL
Which recent premiere did you like most?
THE LOUD HOUSE QUIZ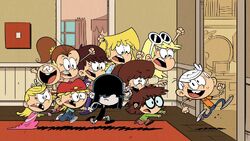 Try out your The Loud House knowledge in this Quiz.
WELCOME TO THE LOUD HOUSE ENCYCLOPEDIA!
Officer Schoffner is a policewoman who first appeared in "Rita Her Rights". Her job, like most police, is to give out tickets to those who broke the law. She's also responsible for giving Rita community service just so she can avoid paying for a ticket.
Schoffner is an obese woman, with fair skin, and brown hair tied up in a ponytail. She wears a typical police outfit.
Schoffner is voiced by Mindy Sterling, who previously voice Dr. Shuttleworth from the Season 2 episode "Potty Mouth".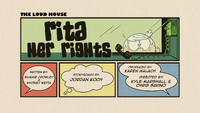 "Rita Her Rights" is the one-hundred-fourteenth episode of The Loud House. It premiered in the United States on April 6, 2018. It was written by Sammie Crowley and Whitney Wetta, directed by Kyle Marshall and Chris Savino, and storyboarded by Jordan Koch.
In this episode, Rita, having been overworked by her daily schedule, accidentally gets a ticket for parking Vanzilla in a parking zone designated for school buses only. Not wanting to pay a $2,000 fine, Rita decides to take up community service, and discovers that it's relaxing. Before long, Rita begins doing unlawful things around town as an excuse to do more community service, and get away from her crazy family life.
Fun fact: This is the first episode to star Rita alone. As a result, both Rita and Lynn Sr. now have at least one episode centered around them.