ABOUT THE SHOW
The Loud House follows the daily adventures of Lincoln Loud, an eleven-year-old boy with ten sisters. In each episode, Lincoln must find a new way to solve the problems that face his huge household. The series was created by animation veteran Chris Savino and currently airs on Nickelodeon.

POLL
Which recent premiere did you like best?
FEATURED VIDEO
WELCOME TO THE LOUD HOUSE WIKI!
FEATURED CHARACTER: STEVE
Steve is a minor character in The Loud House. He is a worker at the local car lot who appears in the segment "Vantastic Voyage". In the episode, Lori and Leni take one of Steve's convertibles for a test drive since Dad does not let them drive his new car. They drive the convertible all around town and bribe Steve by getting him food at Burpin' Burger and a green sweater at the Royal Woods Mall.
Steve is voiced by Phil LaMarr, who has also worked as a voice actor on the Nickelodeon shows Teenage Mutant Ninja Turtles as Baxter Stockman and The Adventures of Jimmy Neutron: Boy Genius as Bolbi. Steve is LaMarr's first voice role on the series.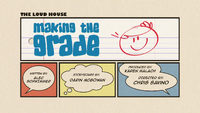 "Making the Grade" is the sixtieth episode of The Loud House. It premiered in the United States on February 24, 2017. It was written by Alec Schwimmer, directed by Chris Savino, and storyboarded by Darin McGowan.
In this episode, Lisa is put into Lincoln and Clyde's fifth-grade class. Lincoln's social standing is at stake, so he persuades Lisa into changing her appearance and behavior to act like a normal kid.
Ad blocker interference detected!
Wikia is a free-to-use site that makes money from advertising. We have a modified experience for viewers using ad blockers

Wikia is not accessible if you've made further modifications. Remove the custom ad blocker rule(s) and the page will load as expected.