ABOUT THE SHOW
The Loud House follows the daily adventures of Lincoln Loud, an eleven-year-old boy with ten sisters. In each episode, Lincoln must find a new way to solve the problems that face his huge household. The series was created by animation veteran Chris Savino and currently airs on Nickelodeon.

POLL
Which recent premiere did you like the best?
THE LOUD HOUSE QUIZ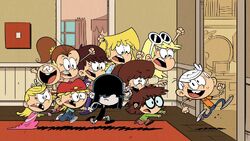 Try out your The Loud House knowledge in this Quiz.
FEATURED VIDEO
WELCOME TO THE LOUD HOUSE WIKI!
FEATURED CHARACTER: CHAZ
Chaz is a teenager who first appeared in "Party Down". He is one of Lori's friends, and also a love interest to Leni.
Chaz is an obese teenager, with dark blond hair, and freckles. He wears a blue cap which is worn backwards, a yellow t-shirt in horizontal cream stripes, gray jeans, and white shoes.
Chaz is voiced by Richard Horvitz, Chaz is one of Kozak's many voice roles on the series.
"Lynner Takes All" is the eighty-eighth episode of The Loud House. It premiered in the United States on July 28, 2017. It was written by Sammie Crowley and Whitney Wetta, directed by Chris Savino, and storyboarded by Miguel Puga.
In this episode, the siblings are sick and tired of Lynn constantly showboating whenever she wins a game during family game night, so they decide to band together to take her down, and hope it'll teach her a lesson.
Fun fact: This episode currently holds the record for being the only episode in the entire series to feature the Loud siblings only, and no one else.