ABOUT THE SHOW
The Loud House follows the daily adventures of Lincoln Loud, an eleven-year-old boy with ten sisters. In each episode, Lincoln must find a new way to solve the problems that face his huge household. The series was created by animation veteran Chris Savino and currently airs on Nickelodeon.

POLL
Which recent premiere did you like most?
THE LOUD HOUSE QUIZ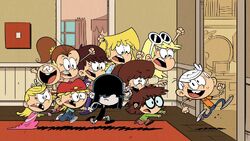 Try out your The Loud House knowledge in this Quiz.
WELCOME TO THE LOUD HOUSE ENCYCLOPEDIA!
FEATURED CHARACTER: MYRTLE
Myrtle (also known as Gran-Gran) is an elderly woman who first appeared in "Insta-gran". She's Pop-Pop's new girlfriend, and the Loud kids' new honorary grandmother.
Myrtle is an elderly woman with dark brunette hair worn in a beehive style, a pair of thick eyelashes, and red lipstick. She wears a red tank top, yellow rounded-triangular earrings, a white bracelet on her right arm, light brown pants, and white slip-on shoes. She also has a beauty mark on the lower right side of her face.
Myrtle is voiced by Jennifer Coolidge, who's known for voicing Mrs. Kremzer from King of the Hill, Ms. Lips from Fish Hooks, "Lazy" Susan Wentworth from Gravity Falls, Aunt Fanny from Robots, and Mary Meh from The Emoji Movie.
"Fool Me Twice" is the one-hundred-tenth episode of The Loud House. It premiered in the United States on February 9, 2018. It was written by Sammie Crowley and Whitney Wetta, directed by Kyle Marshall, and storyboarded by Miguel Puga, who also came up with the story.
In this episode, the Loud family needs to come up with a plan to protect themselves from Luan, since it's April Fools' Day tomorrow. When the family witnesses a stunt double pull off a dangerous stunt without getting hurt, they decide to recruit stunt doubles to take their place, since they know how to endure dangerous stuff without getting injured. However, Luan may have an extra trick up her sleeve, and it might involve the stunt doubles.
Fun fact: Like the previous two April Fools' episodes ("April Fools Rules" and "Fool's Paradise"), this episode was written by Sammie Crowley and Whitney Wetta, and storyboarded by Miguel Puga. However, unlike those two episodes, this one was directed by Kyle Marshall, instead of Chris Savino.