ABOUT THE SHOW
The Loud House follows the daily adventures of Lincoln Loud, an eleven-year-old boy with ten sisters. In each episode, Lincoln must find a new way to solve the problems that face his huge household. The series was created by animation veteran Chris Savino and currently airs on Nickelodeon.

POLL
Which recent premiere did you like best?
THE LOUD HOUSE QUIZ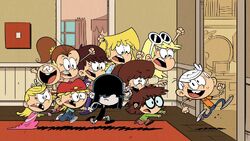 Try out your The Loud House knowledge in this Quiz.
FEATURED VIDEO
WELCOME TO THE LOUD HOUSE WIKI!
FEATURED CHARACTERS: HANK AND HAWK
Hank and Hawk are two teenage boys who first appeared in "The Loudest Yard". They were the main antagonists of "Tricked!", the Loud House Halloween special.
Hank is a big, dark-skinned boy, with black hair, which cover his eyes. He wears a white shirt, burgundy jacket, blue jeans, and white shoes.
Hawk is a big, light-skinned boy, with brown hair, and he lacks a front tooth. He wears a dark khaki t-shirt, blue jeans shorts, and white shoes with three cyan stripes.
Hank is voiced by Mateus Ward, and Hawk is voiced by Wilbur Zaldivar, who provided their voices in "The Loudest Yard".
"Not a Loud" is the ninety-sixth episode of The Loud House. It premiered in the United States on October 18, 2017. It was written by Eric Acosta, directed by Chris Savino, and storyboarded by Jordan Koch.
In this episode, Lincoln needs to know his birth story so he can complete a school report. However, when he finds his baby book, he discovers that the page detailing his birth is blank, and when his parents are reluctant to tell him his birth story, Lincoln, along with Clyde, decide to do some investigating to find out what happened when he was born.
Fun fact: This episode is known for being the last episode to air before Chris Savino's firing from Nickelodeon on October 19, 2017.