ABOUT THE SHOW
The Loud House follows the daily adventures of Lincoln Loud, an eleven-year-old boy with ten sisters. In each episode, Lincoln must find a new way to solve the problems that face his huge household. The series was created by animation veteran Chris Savino and currently airs on Nickelodeon.

POLL
Which recent premiere did you like most?
THE LOUD HOUSE QUIZ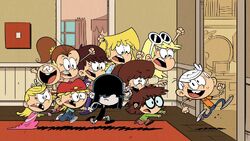 Try out your The Loud House knowledge in this Quiz.
WELCOME TO THE LOUD HOUSE ENCYCLOPEDIA!
The Fox Quintuplets are the Fox family's five misbehaving children. They first appeared "Sitting Bull", but were first mentioned in "Breaking Dad".
The Fox Quintuplets are, as the name implies, five siblings who are all the same age, and have near identical appearances. They all a bit shorter than Lynn, and have brown hair. There are five boys, and one girl (Pam). The boys all wear blue jeans, and each one has a different colored shirt (red, green, blue, and white). Pam wears a white long-sleeved shirt with a pink vest, blue jeans, purple boots, and white pearl earrings.
Although all of them didn't speak, Pam is voiced by Catherine Taber, and one of the boys, named Stevie, is voiced by Lara Jill Miller.
"The Spies Who Loved Me" is the one-hundred-thirty-second episode of The Loud House. It premiered in the United States on September 19, 2018. It was written by Sheela Shrinivas, directed by Kyle Marshall, and storyboarded by Jordan Koch.
In this episode, Ronnie Anne wants to spend her afternoon in downtown Great Lakes City to admire the street murals, but her grandparents, Hector and Rosa, fear for her safety, so they, along with the other Casagrandes, decide to spy on her, with Carlota and Carl sneaking on her.
Fun fact: This episode holds the record for having the lowest number of viewers on initial airing in the entire series, with only 1.18 million watchers.