ABOUT THE SHOW
The Loud House follows the daily adventures of Lincoln Loud, an eleven-year-old boy with ten sisters. In each episode, Lincoln must find a new way to solve the problems that face his huge household. The series was created by animation veteran Chris Savino and currently airs on Nickelodeon.

POLL #1
Which recent premiere did you like most?
THE LOUD HOUSE QUIZ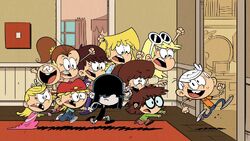 Try out your The Loud House knowledge in this Quiz.
WELCOME TO THE LOUD HOUSE ENCYCLOPEDIA!
Jerry Kling, AKA The Cherry King is a celebrity who appears in the episode "Tripped!". He's a cherry farmer who sponsors his own brand of cherries.
Jerry is an elderly man with no hair. He wears a big brown hat, a plaid red collared shirt with a white shirt underneath, blue suspenders, and brown boots.
Jerry is voiced by Carlos Alazraqui, who currently voices Carlos Casagrande.
"Scales of Justice" is the one-hundred-twenty-seventh episode of The Loud House. It premiered in the United States on July 20, 2018. It was written by Jeff Sayers, directed by Kyle Marshall, and storyboarded by Miguel Puga.
In this episode, Lana is worried that her favorite fish, the Fishmans, would die when the lake they live in is home to the construction of a new mustard warehouse. To protect the fish, Lana goes to great lengths to make sure they stay safe, and prevent any further construction.
Fun fact: The news reporter, who has had numerous appearances in previous episodes, is revealed to be named Katherine Mulligan.