Sam Sharp[1] is a minor character in The Loud House. She makes her first appearance in "L is for Love", and it is revealed that Luna likes her.
Appearance
She has blonde hair, with a teal streak, four pairs of eyelashes, and has two piercings on each ear.
She wears a white shirt with the roundel of the RAF on it, a light blue leather jacket with a skull patch on the back, burgundy-colored ripped jeans, which is being held by a black studded belt, and dark purple boots like Luna's.
Appearances
Season 2
Season 3
Trivia
Sam comes from Samantha, although it also comes from Samuel as a male name. That's how viewers were led to believe that Sam was a boy before the end of the episode, specifically her male friend.
According to Kevin Sullivan, during his first pitch of "L is for Love", Sam was named Max, which is also a unisex name.
Contrary to popular belief, Sam was not named after writer Sammie Crowley, as Kevin Sullivan stated that he wanted her to have a name that both males and females could use, which would add in confusion to what Sam's real gender was.
After Tabby, Sam is the second character with a streak in her hair.

Coincidentally, both are friends of Luna.

Like Luna, she wears purple colored boots, only shorter, slightly darker and have grippy soles.
She is the second of the sisters' crushes to have more than one appearance, after Chaz, who appeared in "Party Down".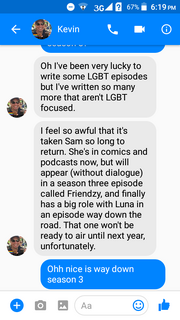 Dub facts:

In the Korean dub, Sam was given a male voice and she's voiced by a male voice actor, instead of a female actress. For the Arabic, Malaysian, Chinese, and Russian cases (everywhere where homosexuality is considered a taboo or, in other cases, oppressed of its rights), it's yet unknown.
Her Polish name is Seba from Sebastiana.

According to Kevin Sullivan, Sam is going to have a major role with Luna in an episode set to premiere in 2019.

In addition, Sullivan said Sam will also be in new Loud House comics, and Listen Out Loud podcasts.

Live Life Loud! confirms that Sam's last name is Sharp.

The book also reveals she has a brother, named Simon.
It's also revealed in the book that Luna and Sam are classmates.

She is confirmed to have a role in a story in After Dark.[2]
Reference
v - e - d The Loud House characters