Sam Sharp[1] is a minor character in The Loud House. She makes her first appearance in "L is for Love", and it is revealed that Luna likes her.
Appearance
She has blonde hair, with a teal streak, four pairs of eyelashes, and has two piercings on each ear.
She wears a white shirt, with a symbol bearing the resemblance of the logo of The Who on it, a light blue leather jacket, with a skull patch on the back, burgundy-colored ripped jeans, which is being held by a black studded belt, and dark purple boots like Luna.
Appearances
Season 2
Season 3
Trivia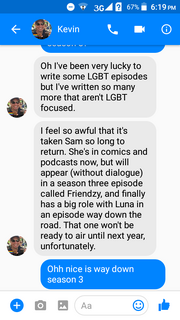 Reference
v - e - d The Loud House characters