This page is now off limits!
This article has been protected from editing.
Reason: Early information.

The protection to this page will be removed sooner or later. Want to request an edit? Notify an admin so they can add it in for you.
Holy shamoley! Who told you about that?!
This is unverified content. It does not qualify as fake content, since it has come from a reliable contributor, but it has not yet been verified by outside sources. Please add RELIABLE sources to help verify the content's credibility.
"Racing Hearts" is the upcoming forty-fifth episode of the third season, and the one-hundred-forty-sixth episode of The Loud House.
Plot
When Luna and Sam embark on a challenge taking place across Royal Woods, they discover they have less in common than they thought.
Cast
Trivia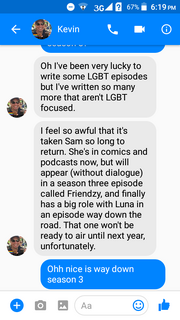 Kevin Sullivan has confirmed that Sam would have a major role in this episode.
References
Racing Hearts - The title is of this episode is a reference to tachycardia, or heart palpitation, which is when your heart has an irregular heartbeat.
"There's Nothing Here!"

This article is a

stub

. You can help The Loud House Encyclopedia by

expanding it

.