Why Lynn Loud is the Family's Biggest Sports Fan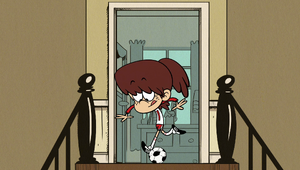 This is a comprehensive list of Lynn Loud playing sports, sorted by episodes from the Shorts, Season 1, Season 2, and Season 3.
She plays football, basketball, and a sport she made up where she rides on a motorbike, and smacks a tennis ball with a hockey stick, while wearing a football helmet.
She is seen playing the sport she made up in the pilot.
Season One
She plays with a Football that Lincoln filled with helium, allowing it to float for "the player who demands more".
She practices bouncing a Soccer ball off her head until she goes through a humiliating accident that Lincoln films.
She plays Football, Soccer, Lucha Libre (masked wrestling), and Roller Derby while getting ready for school.
She mentions playing Field Hockey with roller skates and Roller Derby with a hockey stick.
She helps Lincoln shoot hoops in his room as part of her way to coax him into voting for Dairyland.
She practices Kickboxing with Lincoln who didn't know he promised to be her sparring partner and kicks him around.
She holds a Lucha Libre match with Lincoln when she's bunking with him.

Lincoln tries cheating with a rematch sneak attack to make Lynn think he's a bad roommate, but it doesn't work.
She plays Football when she doesn't cooperate with Lincoln's instructions for the first photo take.

She acts like a dog when Lincoln takes her football from her and goes long to fetch it.
She is about to play Hockey with the broom to sweep until Lincoln informs her of her condition of not making a sport out of everything for the bet.
She caves into her temptation and plays basketball by shooting the laundry into the basket and loses the bet.
She has chicken fights in the pools.
She plays with her basketball at the beginning of the episode when she turns down Lincoln's offer to read comic books with him.
She teaches Lily how to play Baseball when the girls decide to do what Lincoln did and mold Lily into mini versions of themselves.
In a flashback to her sleepover, she was playing Soccer and shot the ball out the window.
She plays Hackysack with Clyde.
She plays Football and tackles one of Lincoln's alternate guests.
She teaches Lincoln parkour.
She is practicing bike stunts on her bike and wins a competition with Lori's.
She mentions playing in a roller derby match.
She is shown doing push-ups when Lucy comes to confess for clogging the toilet.
In Lincoln's vision of what would happen if he didn't tell Lisa the truth, she kicks her Soccer Ball in frustration after getting kicked off every sports team due to poor grades.
She uses up a ton of water to fill a giant pool and freezes it with a freezer to play Ice Hockey.
Lincoln's alternate solution for her is melting the ice back into water and giving her a surfboard; this allows her to surf.
She is dribbling a basketball and thinks they're playing Freeze Tag when Lincoln tells her to freeze while looking for Frank; she holds the pose she froze in until Lincoln unfreezes her.
She catches the dishes she, Luan, and Lucy wash like a football.
She is playing Hackysack with a ball of hair that got caught in the bathroom sink until it gets so big she gets trapped inside of it.
She uses a Tennis ball dispenser to kick Lincoln out of her and Lucy's room while looking for the money.
She plays Baseball with the new pitching machine at the batting cage so she can hit the first ball. She comes back dressed as Lisa, but due to her poor vision while wearing her glasses, she misses and spins out of control.
Lynn Sr. tries to show her some baseball pointers, and then later Harold McBride helps her.
She rides a shopping cart at top speed, and lands softly on a crate of marshmallows.
She takes Lincoln's place on the local football team to cover for him.
She was going to play football with Lana.
She plays basketball with Lincoln in his room, until she's too tired and falls asleep.
She spins around her basketball that Lori sneezed on and gets her germs on her, making her sick.
She is seen playing with a baseball.
She cannonballs into the swimming hole they all made out of the storm water they bailed out of the basement.
Season Two
She plays and wins a baseball match with her team off-screen.
She was reading a sports magazine.
She and Lana have an elevator race at the spa, but the elevators they use break down.
Her advice to Lucy when dating Rocky is to talk about sports.
She broke Lincoln and Rusty's project with a hockey stick.
She gets her roller derby team to help with the new security measures.
She plays for the town's softball team, the Squirrels, and loses the game that Lincoln attends, wins every other game after, and wins the playoffs when Lincoln is there in disguise to prove he's not bad luck.
She races with Lori and Lola on bouncy balls.
She smacks a smoke detector away with her lacrosse stick.
She was practicing her baseball pitches into her soccer net before swearing in front of Lily.
She played Rugby when she was temporarily with Lana.
She bench presses using Leni.
She and Lana moved Lincoln into his room.
She gets Lola and Lana to help her with her coxswain practice.

During the boat race, Lynn couldn't speak to her team and they ended up losing.
Her idea for their dad's new career choice is to be a soccer goalie.
She and Lana were playing frisbee.
She teaches her parents how to rock climb.
She lifted weights.
She plays with her soccer ball.
After finally losing at a board game, she gets overly competitive and starts turning everything into a contest.
She rides on her bike faster than Vanzilla.
She plays a short game of basketball with Lynn Sr. to convince him to give her money.
She was practicing hockey with Margo.
She tosses a basketball and a tennis ball against the wall.
She reads a sports history book.
She is seen playing with a baseball.
She plays hockey with her father.
Season 3
She was playing baseball with Leni.
She was playing hockey while wearing her skating gear.
She reveals that she has won a tournament of football, lacrosse, ice hockey, baseball, and roller derby.
She was playing basketball throughout the episode.
She is seen Lucha Libre wrestling with Lincoln.