Experiments and Inventions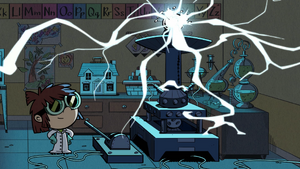 This is a list of Lisa Loud's experiments and inventions, sorted by episodes from the Shorts, Season 1, Season 2, and Season 3.
Season 1
Experiments
She gives Luan one of her Gloweos to make her glow in the dark during the blackout, but it was only a prototype.
The previous week, she performed an experiment that resulted in Leni's entire head bloating to enormous proportions, and breaking out in boils.
Inventions
Gloweos - a cookie that when consumed by the user, will make their body glow for a short time.
Experiments
She performs all sorts of experiments in her room under Lincoln's charge, one of which results in a creature with tentacles.
Inventions
Soap Machine - a machine that allows Lisa to clean up rooms within a few seconds.
Inventions
Catapult - a miniature catapult made out of home materials that enables her to launch peas.
Experiments
She tests her experimental skin pigment ointment on Leni by switching out her zit cream.
She also attempts to test a bloating potion on her, but Lincoln catches wind of this by testing it on Walt first.
She has a chemical about to explode. Lincoln stops it by adding dinitrotoluene, but it explodes anyway.
Inventions
Experimental skin pigment ointment - As the name suggests, it's an ointment that changes one's skin color when applied.
Expansion potion - When applied, it causes one to instantly expand their size.
Experiments
It is unknown what this experiment was about, as Lincoln didn't keep his promise to help her with it, and thus, it resulted in a deafening explosion that she tuned out with his earbuds.
Experiments
Experiments
She studies the fecal matter of her siblings.
Experiments
She researches the chemicals used in the pool water.
Inventions
Urine detector - a liquid that eliminates all urine from bodies of water.
Experiments
She attempts to use Lily as a test subject for one, but Lincoln stops her in time.
Experiments
She studies others' brainwaves on Friday nights. She does it to Clyde and fails to do it to Chad.
Inventions
Brainwave detector - A helmet to do as the name suggests.
Experiments
Unseen at the start of the episode, as an explosion can be seen coming from her room.
Invention
Flower maker - some chemical which makes flowers.
Gravity shoes - a pair of shoes which can walk in the ceiling.
Experiments
She keeps a record of everyone's usage of the bathroom.
Experiments
It is unknown what the purpose of this experiment was, but Lisa states Lincoln's clumsiness proved her hypothesis correct.
Inventions
Electrical machine - unknown purpose, though Lincoln made it more energy efficient by using Lily's dirty diapers as a renewable energy source.
Inventions
Ghost pepper flavored mouthwash - A very spicy mouthwash.
Inventions
Trashy - a heap of trash that gained sentient life.
Experiments
One experiment resulted in a teddy bear being given a radioactive glow, and she performs one at Clyde's house with sodium salicylate.
Inventions
Bomb shelter - used it to protect herself from Luan's pranking spree.
Experiments
She sits in one of the freezers in the frozen food section at the supermarket to test for the proper temperature to cryogenically freeze herself for the future.
Experiments
She continuously tries to debunk Lucy's fortunes/predictions.
She presumably discovers a new owl/deer hybrid which she named "The Dowl", which turns out to be fake.
Experiments
She gives Lincoln a dimensional watch to let him see what it would be like if he had 10 brothers instead of 10 sisters. (This was proven to be only a dream).
Inventions
Dimensional watch - a watch that allows the wearer to be transported into any alternate reality.

This was not truly invented because, as mentioned above, it was only a dream.
Experiments
She once performed an experiment that destroyed her parents' bedspread.
Experiments
She uses the snow day method to get her siblings to go back to school by barraging them with snowballs.
Inventions
Mr. Reinforced Titanium Alloy Arms - A robot Lisa created, which destroyed a snowman Lana created.
Snow guns - A bazooka like weapon that launches a large quantity of snow.
Indoor Snow - Snow she just brought into the house.
Snow Powered Tank - A tank used to melt snow to create a path to walk on.
Experiments
She shows Lincoln how he can get Ms. DiMartino out of his line of sight by testing Lori on giving her Bobby's full name while distracting her with a picture of Hugh.
Season 2
Experiments
She explains why Santa can't exist.
Experiment
Lisa uses a chemical to disinfect the pool and room after three men use it. She later uses it for her parents as a hot tub.
Invention
Pizza-scented perfume - A perfume that would attract boys with the scent of pizza toppings. It has a heavy amount of anchovy scent.
Inventions
Todd - A robot Lisa created for the robotics project. According to Lisa, it has laser eyes, and uses it to destroy anything "inferior".
Correction Collar - A white collar with a water sprayer to prevent her from being "smart."
Experiments
She collects Lori and Leni's DNA samples.
Invention
Chocolate fountain - A chocolate fountain. According to Lisa, it originally started as a nuclear fusion device, but she accidentally dropped her chocolate bar in it, resulting in it becoming the chocolate fountain it is now.
Invention
DNA Machine - It uses the Loud kids' DNA and other variables to calculate which 2 Loud kids should be roommates.
Experiment
Lisa left behind some chemicals in Lincoln's room when she switched rooms with him. Thus, the chemicals exploded.
Invention
Cryogenic sleeping chamber - Whoever rests inside it will be put in an isolated and frozen state of sleep for a set time. Lisa suggested using this on Luan to prevent her Prankmageddon, much to the shock of the other siblings.
Invention
Tracking chip - Planted on one's person to keep track of their locations at all times. Lisa has put this on her siblings and Mr. Grouse.
Invention
Detangling Formula - A liquid that when sprayed on someone's hair, it'll detangle that person's hair. One other side effect is that the person's hair will fall off.
Ultrasonic Mousetrap - It hypnotizes mice (and Leni) with hypnotic ultrasonic waves and brings them to the trap.
Experiments
Takes Lola's hair after it falls out.
Experiment
She has been studying her parents' problematic urination and defecation due to their poor health and comes to a conclusion that they have the urine of eighty year olds.
Experiment
She was on the verge of curing the H1N1 virus, before being told to attend a ceramics class.
Experiment
Lynn makes a chemical explosion before Lisa, who wasn't trying to make one, and her chemicals explode anyway.
Invention
Virtual-Reality Simulator - allows the user to see "a future made possible".
Invention
Builds a robot out of home appliances which does more than one task.
Invention
Robotic Kangaroo Legs - Lisa's costume, below the neck, uses robotic legs to jump.
Experiments
She drops her fecal slides on her family after falling down the stairs.
Experiments
She takes a sample of Luna's DNA.
Invention
She discovers and implements time travel.