"Fed Up" is the eighteenth episode of the second season and the seventieth episode of The Loud House.
Plot
Tired of monotonous meals, the children make a plan to sabotage dinner so they can have pizza.
​Synopsis
Lynn Sr. announces that dinner is ready, causing the siblings to quickly rush downstairs with excitement. Suddenly, the footage stops, and Lincoln appears, explaining to the viewers that the siblings would never act like this when dinner is ready. Lincoln enters his room, and explains that every day, Lynn Sr. always cooks up a dish for a specific day, and for same seven days of the week, the Louds are forced to eat the same meals, and they're bored of it. When Lynn Sr. presents tonight's meal, Lincoln tries to hypnotize himself so he can imagine the dish would taste differently. Lola tries to steal his hypnotizing coin, so she could do the trick, but in the process, knocks the dish onto the floor. However, Lynn Sr. saves it just in time. Lynn Sr. claims that if the dish was ruined, he would've had to order pizza instead. This causes Lincoln to get an idea.
Later, when the Louds are getting ready for bed, Lincoln comes in, and explains that he has a plan on how they don't have to eat tomorrow's meal. If tomorrow's dish is ruined, their father will order a pizza instead. Almost immediately, the sisters agree with Lincoln, and begin to devise a plan.
Lynn Sr. arrives back from the store, carrying goulash ingredients (since he makes goulash on Thursdays). The moment he walks in, Lincoln asks him why he always makes goulash on Thursdays. Lynn Sr. proceeds to tell Lincoln why. As Lynn Sr. tells the story, the sisters discretely confiscate the primary ingredients. After stealing enough ingredients, Lincoln leaves. The siblings meet up in Lori and Leni's room, and proceed to look at Lynn Sr. through a security camera hidden in a loaf of bread. Lincoln predicts that without the primary goulash ingredients, Lynn Sr. would order a pizza instead. When Lynn Sr. notices that his ingredients are missing, the siblings anticipate that he'll order a pizza, but instead, he proclaims he'll go back to the store to replace the ingredients, much to everyone's dissatisfaction (even Lisa, who claims that she should've chloroformed him, since "unconscious people can't make goulash"). Lynn Sr. tries to head to the store, only for the steering wheel to break off (due to Lana stealing the wheel's screws). The siblings and Lynn Sr. meet up in the living room, where the siblings await their father's response on what to do. Lynn Sr. announces that he's going to make tomorrow's dish today, much to everyone's annoyance.
Up to this point, the siblings constantly try to sabotage their father's cooking, like stealing his ingredients and kitchenware, putting raccoons in a pot, gluing the oven door shut, and cutting off the power to the house, but no matter how hard they try, Lynn Sr. always finds an alternative way to get the job done. When Lynn Sr. thinks he's finally got it, Lily deliberately throws her rattle on the floor, causing Lynn Sr. to trip, making him drop his dish, which the raccoons quickly devour. Giving up, Lynn Sr. finally decides to order a pizza, much to the kids' happiness.
Later, Rita and Lynn Sr. realize the charade that has been going on when Lynn Sr. discovers his slippers are filled with meat, and robe pockets filled with noodles. Caught red-handed, the siblings admit they sabotaged dinner so they can get pizza because they're tired of eating the same seven meals. Rita tells the kids that their father puts a lot of hard work in preparing those meals, and reminds them that when they have to cook in the future, it's not a simple task. Lincoln gets another idea: he and his sisters will cook tomorrow's meal so their father can take a break. Lynn Sr. doesn't see the harm in it.
The next day, the siblings are in the kitchen, thinking of what to cook. All of them have different ideas on what to make (including Leni suggesting goulash, and Lincoln reminded her they're making their own dinner so they wouldn't eat it), and Lori suggests that they make a potluck: all will make what they want to make. Soon afterwards, it's complete chaos in the kitchen; the siblings are fighting over different ingredients, bumping into each other, and ruining each other's dishes. As the siblings engage in a fight, Rita and Lynn Sr., awaiting for their kids' cooking, ask the kids if they're ready. Immediately, the kids stop fighting, and realize that they got nothing to serve. The siblings then proceed to mash all of their dishes together. After presenting it, the family shakily take a bite of the dish, and as expected, it tastes horrible. The siblings apologize, saying that cooking is a hard task, and promise that they will never complain about their father's cooking (except for Lola, since she claims it'll be a promise she won't keep).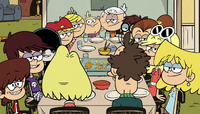 Lynn Sr., not wanting to go a night dinnerless, decides to use what is left in the kitchen to prepare a meal. With the siblings' help, he manages to cook up something, with the result being a casserole. Later, the kids realize that the dish was delicious, and that things can taste better with a little tweaking. Satisfied with how the kids are appreciating his meals now, Lynn Sr. prepares to head to the store to get some ingredients for newer dishes. However, not long after departing, Lynn Sr. crashes the van, and Lana sheepishly realizes and admits that she forgot to put the brake pads back on.
Cast
Trivia
This episode currently holds the record for having the shortest title.
This is the first episode containing real world photos.
This episode was written by newcomer Jacob Fleisher. One of Fleisher's previous writing credits was on the 2013 film, Movie 43, a film that has received universally negative reviews, and has been considered one of the worst films of all time.
This episode has been Nominated for Nick Danimals 2017 as well as "Spell It Out".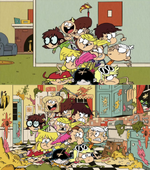 The pose of Lincoln and his sisters after fighting resembles the pose from the short "Slice of Life".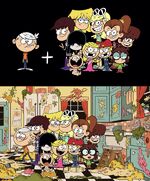 The sisters' positions when telling their father that things are going fine closely resembles their positions in the opening during the "one boy and ten girls" line.
This is the first episode to have a title card where the title is only one line.
Lynn Sr.'s dinner schedule:

Sunday - Salisbury steak
Monday - Meatballs
Tuesday - Turkey loaf
Wednesday - Weinerschnitzel
Thursday - Goulash
Friday - Fish fry
Saturday - Succotash

How the girls are getting ready for bed is similar to the beginning of "Space Invader", although it has a few differences from that episode:

Instead of fighting over the toothpaste, Lynn was picking her nose, and Lucy was flossing her teeth.
Leni wasn't brushing her hair and she has her sunglasses on.
Luan was in her regular clothes with the others.
Lana was in the toilet instead of brushing her teeth.
Lisa doesn't have her clipboard.
Leni and Luna switch positions.
Lori is the only one who stays in the same position in both episodes.