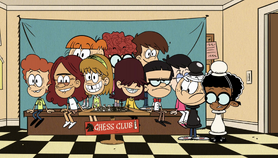 The Chess Club is a hobby club for chess players at Royal Woods Elementary School. Lincoln and Clyde tried to join the club for the group photo.
Members
Trivia
In "Changing the Baby", Lincoln knows how to play chess, and even teaches Lily how to play. It's unknown why he couldn't join this club.
One of the members of the club looks like Mandark from Dexter's Laboratory.

He also looks similar to David, Lisa's love interest.  

One of the members with a yellow shirt and brown hair over their eyes had buck teeth and braces similar to Luan's.
One of the members' earrings look similar to Lola's.

Coincidentally, they both have gaps in their teeth.

Andrew's teeth look similar to Ronnie Anne's.
One member has bangs covering her eyes, similar to Lucy's. She also looks a bit similar to Luna's favorite musician Mick Swagger.
One of the member's hairstyle looks similar to Luna's.
It's unknown why Liam is in the club and would attack his friends for destroying the club's chess board.
"There's Nothing Here!"

This article is a

stub

. You can help The Loud House Encyclopedia by

expanding it

.
v - e - d The Loud House characters